Welcome back to Amy's Magical Place's 3rd Annual Academy Awards blogging. So, if you happen to be traveling throughout South East Asia and don't have access to a TV, or are Kajal and happen to appreciate my specific brand of humor (I believe that covers my main readership), or if you are a huge lover of Sandra Lee's cooking and have no idea how you ended up on this page, I hope you enjoy!
So it begins...
I love Neil Patrick Harris!… and his sparkly tux. <3
Though might I just say that the flesh colored mike is a little creepy.
The opening sequence is reminding me of The Great Muppet Caper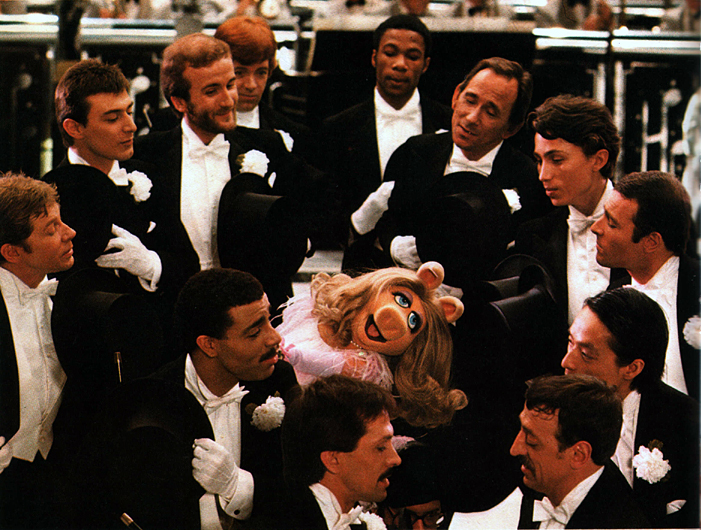 Sarah Jessica Parker's hair looks awesome in this fancy huge coif!
Is Steve Martin buckled up for his trip down on the thing? Oh… I think they both were but Alec had his safety belt cleverly hidden beneath his tux jacket.
Vera Farmiga looks like Andie MacDowell. It's actually kind of creepy. I can't be the only one who thinks this, no?
Love love love Sandra Bullock's red lipstick
Girl from Precious is adorable. Plus she has a nice dress. Win.
Seriously, she's wearing such great lipstick. I think the camera man likes it too, because they keep cutting to her reactions.
Who's Clooney with this year? (And why isn't it me?) She should ask Sandra Bullock for some lipstick. Her lips are looking a little lifeless there.
Lipstick again! At least this time Alec and Steven are talking about her.
Oh, Sandy is in the front row. That might be why they're paying attention to her. Well, that and her fabulous red lips.
Is Taylor Lautner there with Taylor Swift? I didn't catch. Hm, no it seems he's just sitting there with Kristen Stewart. Bummer for Taylor. Assuming they're still together. I actually don't keep up that much with the entertainment news. Unless it's funny or on The Soup.
Penelope Cruz is beautiful, but I'm not entirely sure what I feel about her dress. Color=10, but the weird asymmetrical boob thing is turning me off.
I've never heard of The Messenger. Should I have? I mean I guess so… Woody Harrelson is up for an award for it.
Oh, another movie I haven't heard of. But Gandolf is in it.
Um, why does ABC7 think I care about its little fight with Cabelvision? I mean, people with Cablevision care, but they can't see the little ticker at the bottom of the screen because you're not showing on their TVs. Dumbasses.
Steve Carell! I love him!
Ohh… Animated Feature Film? I've actually seen a film in this category! Two films!
Seriously, Cablevision, I hate you. ABC7, you're not that much better.
Aww. I haven't seen the Princess and the Frog yet.
Yay! Up! Though I've heard fantastic things about The Fabulous Mr. Fox.
Julianna Moore looks hot.
Amanda Seyfried is wearing a total Cinderella dress, but looks totally sweet. On the other hand, Miley Cyrus needs something that covers her boobs better. And to lay off the self tanner. And to stand up straight. The girl is slouching.
Oh, I've seen District 9 too… I'm feeling like such an Oscar expert. Three whole movies.
Tina Fey always gets slammed in the fashion columns. I like her dress, though I hate her hair. I might like the dress better with two straps. I keep wondering what happened to the other one. It looks kind of like two dresses. Two pretty dresses, but I'll be happy when this whole one-strap thing goes the wayside. Hm. Maybe I don't like her dress. Or maybe I'm over thinking this whole thing.
The Oscars are totally awesome when you never have to hear the acceptance speeches.
Molly Ringwald! Super cool. I like her hair too. Why does she look shell shocked though? She looks a bit crazy. I don't like her gold thing-a-ma-bobs, though I think her one-shoulder thing works way better than Tina Fey's.
McCauley Calken still looks like a tiny 9 year old version of himself. :)
Sweet tribute to John Hughes.
Kristen Stewart looks perpetually pissed off. Seriously, what gives?
Thank Heaven For Little Girls? My husband declared that a creepy choice for entrance music.
Who just came out looking like an avatar? Ben Stiller! That's awesome. I like his blue whiskers the best.
The deadpan "I am here… to present the award… for best makeup"
The fishing pole is super awesome.
I'm going to run out of DVRed Oscars soon. Might have to switch gears and watch some red-carpet stuff while I let the oscars get a bit ahead of me.
Jake Gyllenhall is hot. Is he really not dating Reese anymore? I adored them together.
Rachel McAdams dress is pretty. And so is her dress.
Best Adapted Screenplay- my bet is Push/Precious. Who's with me?
Oh, I saw The Education too. I thought it was horrible. Fail Nick Hornby. I expected better of you. Blah. I saw it on the way home from Frankfort.
Oh yeah, I can call it. Push won. Suck it librarian that I know that thinks it's trash.
Queen Latifah looks rockin'.
So, have I mentioned how much I love Sandra Bullock's lipstick?
Lauren Bacall is gorgeous.
Mo'nique totally deserved the win for Best Supporting Actress. She was awesome, based just on that clip.
Lots of red dresses tonight. :) Not crazy about the one shoulder on Sigourney Weaver either. Sigourney is the weariest name ever, isn't it? I never really thought about it before. She changed it from Susan in 1963 after a character in the Great Gatsby that apparently only she remembered.
Why is Keanu Reeves there? He wasn't in a movie this year, was he?
Not nuts about Sarah Jessica Parker's dress-- it obscures any figure she has. though she's totally the person to present for best costume. And I still like her crazy bun.
The winner- Sandy Powell is wearing an amazing dress. That's a print. With a cute sparkly pillbox hat. And great hair. I love her. J thinks she gave a bitchy speech though, so take from that what you will.
Why is Charlize Theron wearing these weird swirly spiral flower things over her boobs? Seriously. I keep staring at her breasts because of that stupid dress.
Here comes Kristen Stewart with her sour puss face again
Taylor Lautner is hot though. :)
Um, do you think I should tell them that Twilight and New Moon aren't horror? Someone at the Academy seems confused. They were comedy- anyone who has seen either knows that. Duh.
Morgan Freeman is hilarious. I love him.
I love Anna Kendrick. And she has a super pretty dress on, though some color wouldn't have hurt her. She is also the absolute best part of the Twilight movies, and I fear for the rest of them, because I know her character has a much smaller part the more anti-social Bella gets.
Seriously, I just went on IMDB- why is Keanu there??? On the bright side, he's in a new version of Jekyll and Hyde next year, which is a text has no good modern film adaptations- I know, I looked. Of course, that assumes that a version with Keanu Reeves would be a good adaptation. So I guess I'm back at square one.
Oh! Red lips. And pretty dress. Normally Sandra Bullock looks crazy and bad dressed up, but tonight she looks great. Fabulous dress. Fabulous lips. And for once great hair. Not stringy at all- just shiny and sleek and beautiful. Just woosh over her shoulder, just so. It's kind of amazing. And the dress- it's like painted on her. Sexy.
Not sure how I feel about Demi's dress- it's a little too "naked dress" for the memorial tribute, and a little too ingenue for an actress of her age (I just went to check and see how old she is, which is 48. I spent a harried minute wondering if I called a 40 year-old old or something. She's nearly fifty- I stand by my statement).
I kind of want to fast forward through this, but I love this song. And I don't think I have much room to fast forward anyway.
I forgot Brittany Murphey passed. That really is so sad- she was so young.
I hate J-Lo's dress. It looks like an iridescent comforter is attacking her.
I love that Clooney doesn't seem to take this too seriously.
Boo! Camera man who wouldn't let Rick O'Berry show his Dolphin text thing (44144) and instead cut to some guy. Text dolphin to that number and you'll get messages on how to stop the annual Japanese dolphin hunt.
Ohh…. I wish I had this "shot" sequence when I was teaching Monster. It's really descriptive on how the different shots work. My kids didn't get it at all despite the fact that I kept having them draw them.
Hm. Look, it's Keanu. He's introducing The Hurt Locker. Damn. There for a reason.
My DVR is only recording until 11:30. It's 11:14 now. They really need to step up.
I really like this way of introducing the Best Actor/Actress category, where their co-stars say something nice about them. It's pretty sweet and thoughtful (btw, my DVR conked out during Tim Robbin's intro of Morgan Freeman, but I foresaw it, so I set it to record the news. Hopefully this half hour will be enough).
Kate Winslet's hair looks much better this year (as opposed to her crazy-do last year). The silver dress is pretty, but the bottom half is a little square and severe on her. Fab necklace.
Yay Jeff Bridges!
I know that the reason that all the clips from Julie/Julia are of Julia is because Meryl Streep is the actress up for the award, not Amy Adams. But it still makes me happy that it looks more like a movie about Julia Child's life and not so much the movie of a whiney 20 something that had to suffer the indignity of living in- oh horrors- Queens. (Yeah, I don't take that personally. Don't worry).
And yet another opportunity to gaze upon the lipstick and perfect hair of Sandra Bullock. Seriously guys, I'm not even a huge fan of hers.
Oprah! That's sweet. Wouldn't you just die if Oprah Winfrey introduced you? I know I would. Gabby Sidibe must be living the most surreal life right now.
What is Sean Penn talking about? I can't understand what he's mumbling about.
Moving on… Really??? Sandra Bullock? And then she didn't hug Meryl? Hmm… I mean, The Blind Side looks like a great movie, but she had some super stiff competition out there. Well, it's another opportunity to look at this amazing lipstick some more. Not to mention her speech was touching and funny:
"George Clooney threw me into a pool years ago- I'm still holding a grudge."
"Meryl Streep, my lover"
Meryl Streep has gotten the best jokes of the evening. Who declared it "Let's make fun of Meryl Streep Day"?
Yay! First woman for Best Director! It's only taken 81 years…
Wow- The Hurt Locker cleaned up. I would say I should see it, but well, um… I've had Slumdog Millionaire at my house for a week now and I think at this rate I'm just going to send it back to Netflix, cause god knows that I'm never going to watch it.
Aww. Steve Martin just ran down to hug Meryl. So cute! Squee.
Well, that's a wrap ladies and gents! In a perfect world, I'll look at all the gowns tomorrow and give my critiques then.